On Saturday 5 May, Tour de Choices kicked off its first training ride cycling 100 kms from the Choices Cancer Support Centre at The Wesley Hospital, to the Hinterland Hotel at Nerang on the Gold Coast.
Prior to their departure, the Tour de Choices cyclists were taken for a tour of the Choices Cancer Support Centre by Janine Porter-Steele, Clinical Nurse Manager. Janine spoke about the centre and the facilities offered to those going through cancer treatment and the support available to them and their families.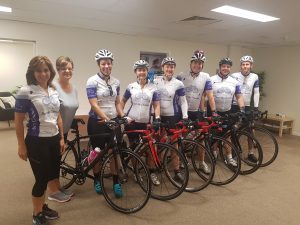 The tour also viewed the various specialist rooms within the facility for clinical and complementary services and Janines discussed the huge range of free educational workshops, support programs and events available for women and men.
After the tour of the Choices facility the cyclists said their goodbyes to the Choices team and saddled up for their 7am departure from Auchenflower to the Gold Coast!
Brisbane turned on a glorious day and the Autumn weather was perfect for cycling! The first 35 kms of the ride was cycled mostly on some of Brisbane's wonderful bike paths and veloways, some of which follow the beautiful Brisbane River.
The group then moved onto the road with the route now running parallel to the Pacific Highway. We passed through Loganholme, Yatala (no stopping for a pie!), Pimpama, Coomera and into the Goldie via Runaway Bay, Labrador and Molendinar before heading back inland to Nerang.
The ride went smoothly although the cyclists had to battle a very tough headwind from Yatala right through to the end of the ride. Fortunately the group has had a number of rides together prior to this training ride so were able to have stronger riders staying up front as wind blocks to give those in the back of the bunch some much need relief from the strong wind gusts.
The group stopped at the 3 scheduled rest-stops on the route with the Tour de Choices support crew dispensing food and water (and yummy jelly babies) from their support vehicle.
In the final kilometre one of the cyclists got the first, and luckily only, flat tyre!  We all stopped, and with much encouragement and banter, watched Keith change the tyre!
The group rolled into the finish at The Hinterland Hotel at lunchtime all smiles and happy knowing that we had ridden a route that we believe the 2019 Tour de Choices event riders will enjoy!
A well earned pub lunch and coffee finished off a very happy and successful day!
For more information on how to participate, get involved or fundraise go to the Tour de Choices website or Facebook page.